Scott is now four years old, and starts school in September. We moved from Bournemouth to Devon last November, and are just about settled in! Scott goes to pre-school 5 mornings a week, so I have a bit of peace and quiet now! Scott isn't held back in any way, running, jumping, bouncing on a trampoline, kicking a ball, but perhaps does complain if he does too much walking (maybe that's a 4 year old thing and not a Talipes thing!) That said, his feet aren't doing so well and he will definitely have more operations.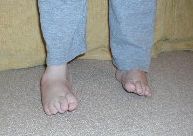 So, to recap, Scott has now had surgery at 10 months old, and repeat surgery at 2 and a half years old in June 2003. Whilst the right foot is more troublesome, surgery was repeated on both feet. When the casts were removed in September 2003, I was a bit disappointed as I could see no real improvement in how they looked compared to immediately prior to the operations. The consultant, Mr. Clarke, reminded me that it is not just about appearance, but about functionality, but I would still say the feet hadn't improved in any way. In any case, Mr. Clarke then proceeded to talk to me about further treatment options, so I think he did agree with me really!! He then gave us some information on Ilizarov frames (fixator frames - more on these later...)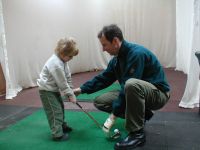 At our last appointment with Mr. Clarke in the Spring of 2004, it was clear that Scott's feet were actually worsening, and he explained that the bone on the outer edge of the foot was growing at a greater rate than the inside (quite common with these feet) resulting in them bending in more (a bit banana shaped). Mr. Clarke put Scott straight on the waiting list for further surgery, this time to remove a wedge of bone from the outer edge of the feet, then 8 weeks of casts to set it all in place. It was at this point I decided to seek a second opinion as I had picked up information from other parents suggesting that more operations would get small improvements in the appearance but would lead to more inflexibility through surgery and more restricted growth of the feet. Even our consultant agreed that with each operation you get smaller improvements. I did some research and discovered another consultant in Southampton called Mr. Uglow. He has had a lot of experience of children with talipes and also practises the Ponseti method of non-surgical treatment (too late for us, but shows that he has a more progressive approach). Mr Uglow agreed entirely with my thoughts and also agreed with my other hunch that Ilizarov frames would be the right treatment at this stage. These are metal frames with metal pins that go right through the leg bones. A bit gruesome, and troublesome plus wheelchair bound for duration, but the outcome is likely to be more successful and retain more flexibility than the bone surgery and repetitive tendon releases. Having moved to Devon, I have now got us referred to a Mr Monsell at Bristol Childrens Hospital who I understand comes highly recommended, especially for this treatment. He examined Scott's feet and found the right foot to be pretty stiff, and was concerned about the ankle movement at the back as this is still quite stiff. He was also of the opinion that the bone surgery is not the best option at this stage and that it would be likely to lead to less flexibility. Also, like Mr. Uglow, he recommends use of an Ilizarov frame, and would consider using one on both feet, but certainly on only one foot at a time due to the complexity of the operation to install it, and the likely complications. He is positive about the outcome, and seems confident of achieving a very good position, but points out that this does guarantee that further surgery won't be needed later. He prefers to leave this type of treatment until the child is a bit older as it is a tough one for a child to deal with, so while Scott is happy, pain free and fully mobile he is happy to leave it until Scott is 6 or 7. Meanwhile we are on 6 monthly check ups.
The hospital was keen that we understand fully what is involved, and that it will take a lot of commitment, with no turning back. Key things we needed to understand:
Operation is lengthy and tricky, will take at least 3 hours
Time in hospital after the operation is 7-10 days, longer than post tendon release surgery
Frame on for 3 months (per foot)
Cannot weight bare on frame, so either wheel chair or Zimmer frame(!) needed for mobility
Weekly visits to the hospital required to check all is OK
Weekly physiotherapy to ensure leg remains mobile and reduce muscle wastage (could be done at local hospital)
4 times daily adjustment of screws by parents, so with a child at school, we will need a plan to ensure that someone does the adjustments
Daily cleaning with cotton buds/cooled boiled water of the spots where the pins go in
Even with careful hygiene and cleaning, we can expect weeping, scabs, infections, complications, as this is a common problem
Pain management is likely to be needed throughout
We realise how challenging this period is going to be, and also that it has implications on how we manage our lives over those months. Fortunately Iain and I are both in fairly flexible situations, and it seems to be the right thing to do, as it will give Scott the best chance for the future. It will be difficult for Scott, but I have already realised how resilient and flexible children can be when faced with these situations.
A final thought...... in sharing all our experience, I hope it isn't creating anxiety for parents-to-be or parents of children with Talipes. Many cases of Talipes are treated with no surgery, or only minimal operations. The Ponseti method is now more widely used and allows many children, even severe cases, to be treated with no, or minimal, surgery. Scott just happens to be in the minority of cases that are more resistant to treatment. Yet even with the severity of his Talipes, and with his feet not yet being right, he is the most happy, mobile, energetic little boy who is not in any way held back by his clubfeet. He does everything that other boys his age do, and other parents and children are unaware that he has a problem with his feet. So I really hope this story brings hope!
6th May 2005.